Safeguard Your Business Property With A Gate
If you want to prevent people from entering your commercial property after business hours, call Pennington Fence to discuss adding a gate around your business.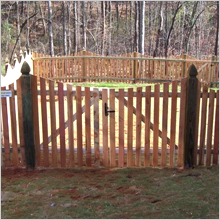 Prevent trespassing with a gate
Our gates can include doors that lock, allowing you and your colleagues to secure the premises when you leave at the end of the work day.
If you've experienced problems with trespassing in the past, or if you'd simply like additional security around your property, let us know. We're happy to help.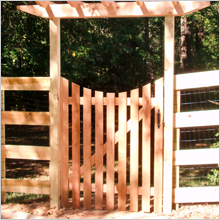 Free service estimates available
Other companies might give you a fencing estimate over the phone, but we like to do ours on-site and in person to give you a more accurate quote for your project.
Our on-site consultation and service estimate are free. We'll visit your property at your convenience to do the consultation; call us to schedule yours today.
Call us today to schedule a FREE on-site consultation:
770-963-9961
We are very pleased with the fence and gates. Bruce's personal customer service was great. Thank you!
– Pennington Fence customer